E-Purse Applications

ATA develops e-purse applications on different types of radio frequency based contactless and smart cards with MIFARE technology.
Campus card applications allows controlling of access to restricted zones or laboratories with smart cards replacing student identity cards, and can be applied to closed circuit or open field sales automation systems.
City Card solutions are also very powerful and advantageous especially in public tr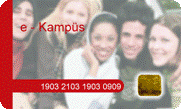 ansit applications. But also very useful when applied to water, electricity or gas counters and tax payment systems.
And a number of smart card aided sales automation systems for restaurant and food and beverage related applications developed by ATA are in use.